Anamaya Health
I am writing this review as both a work colleague and patient of Ayurvedic practitioner, Dr Rani Samant. Dr Rani is highly professional and extremely knowledgeable. Her passion for Ayurvedic medicine and the Ayurvedic lifestyle is evident and inspires confidence in her patients. She has infinite compassion and integrity. Dr Rani has given me simple and effective strategies for maintaining my health and easing my stress. I would highly recommend Dr Rani and her clinic. Five stars all the way!!!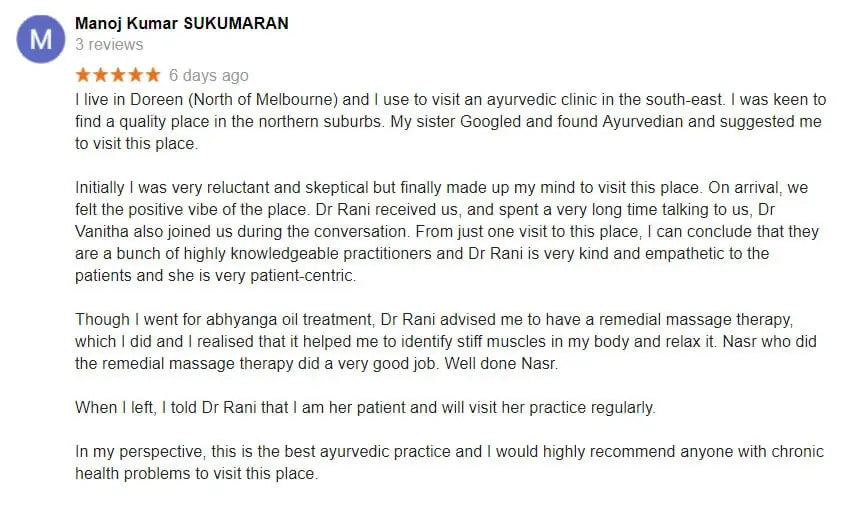 Manoj Kumar SUKUMARAN
I live in Doreen (North of Melbourne) and I use to visit an ayurvedic clinic in the south-east. I was keen to find a quality place in the northern suburbs. My sister Googled and found Ayurvedian and suggested me to visit this place.
Initially I was very reluctant and skeptical but finally made up my mind to visit this place. On arrival, we felt the positive vibe of the place. Dr Rani received us, and spent a very long time talking to us. From just one visit to this place, I can conclude that they are a bunch of highly knowledgeable practitioners and Dr Rani is very kind and empathetic to the patients and she is very patient-centric.
Though I went for abhyanga oil treatment, Dr Rani advised me to have a remedial massage therapy, which I did and I realised that it helped me to identify stiff muscles in my body and relax it. Nasr who did the remedial massage therapy did a very good job. Well done Nasr.
When I left, I told Dr Rani that I am her patient and will visit her practice regularly.
In my perspective, this is the best ayurvedic practice and I would highly recommend anyone with chronic health problems to visit this place.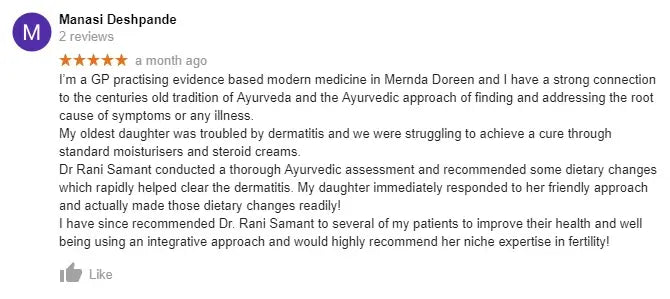 Dr. Manasi Deshpande
I'm a GP practising evidence based modern medicine in Mernda Doreen and I have a strong connection to the centuries old tradition of Ayurveda and the Ayurvedic approach of finding and addressing the root cause of symptoms or any illness.
My oldest daughter was troubled by dermatitis and we were struggling to achieve a cure through standard moisturisers and steroid creams.
Dr Rani Samant conducted a thorough Ayurvedic assessment and recommended some dietary changes which rapidly helped clear the dermatitis. My daughter immediately responded to her friendly approach and actually made those dietary changes readily!
I have since recommended Dr. Rani Samant to several of my patients to improve their health and well being using an integrative approach and would highly recommend her niche expertise in fertility

Lilly
Rani is amazing !
Since following her plan, I have noticed a significant improvement in my overall health. The anxiety is much more managable and gut is more balanced. 
Highly recommended !!
Thanks Rani!!